On Wednesday, May 5, protesters gathered outside the former site of the Japanese Embassy in Seoul as they do every Wednesday. The turnout may have been higher because of the Children's Day holiday.
They were calling for justice for the survivors of Japanese military sexual slavery — for Japan to make a genuine apology, acknowledge its war crimes and pay formal reparations. People stood near the Statue of Peace and spoke in support of the survivors, known as the grandmothers.1 Portraits and flowers had been placed on a table to commemorate those who'd passed on. Police barriers were set up, and there were many officers on the scene.
Not far away, counterprotesters called for an end to the Wednesday demonstrations and the removal of the Statue of Peace. A banner said "End the comfort women fraud now" and declared there wasn't a single victim. Though the grandmothers' supporters far outnumbered their detractors, it was a forceful show of opposition.
I wondered if I might see Lee Ok-Seon Halmeoni, one of the survivors, who attends the protests when she feels well enough. We'd spoken in March via Zoom, mostly about her goals for the survivors' movement and about her life at the House of Sharing in Gwangju, Gyeonggi Province.
But she wasn't there that Wednesday, and I couldn't see any of the other survivors there.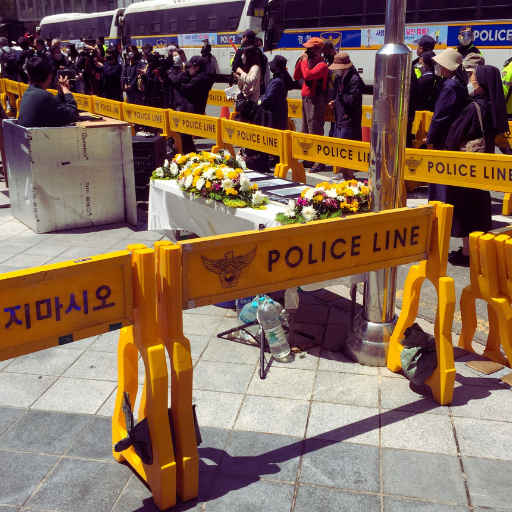 Mario's perspective
Yajima Tsukasa — Mario, who facilitated my interview with Lee Ok-Seon Halmeoni in March — also granted a separate Zoom interview a week earlier. We discussed the tendency in Japan to whitewash history and deny the grandmothers were forced into sexual slavery. Since he's from Japan, I was interested in hearing his perspective on the history disputes between the two countries. 
In 1991, when Mario was in his first year of university in Japan, Kim Hak-Soon became the first Korean victim of Japanese military sexual slavery to tell the world what she'd been through.
More survivors came forward in the 1990s — from Korea, China, Taiwan, the Philippines and elsewhere — launching the movement for justice that continues today. As a student of history and photography, Mario was interested in feminism and social justice. He started traveling to historical sites related to Japanese politics, Japanese imperialism and the Pacific War. His travels took him to China, Korea and other Asian countries. Then in 2000, while working as a freelance photographer in Japan, a workshop for young people in Korea and Japan brought him to the House of Sharing as a visitor.  
From Japan to Korea
In 2002, two years after his first visit to the House of Sharing, he went back to take pictures of the grandmothers, many of which can be viewed on his website. He stayed there for about two weeks, and then the House of Sharing offered him a job.
The House of Sharing had many visitors from Japan, but no member of its staff could conduct tours in Japanese.
"That's why they sometimes had Bae Chun-Hui Halmeoni show the Japanese visitors around the House of Sharing and the museum," he said.
The late Bae Chun-Hui Halmeoni, one of the women who lived at the residence, spent many years in Japan after the war and became fluent in Japanese. I told Mario I remembered her from previous visits.
She was like an artist, he recalled. "Like gorgeous, you know?"
It was hard for Bae Chun-Hui Halmeoni to talk about the history of Japanese military sexual slavery, Mario said, and it couldn't have been good for her either: In the basement of the museum, there's a tiny room made to resemble the rooms where the victims were raped in military brothels. 
"And she could maybe explain to Japanese visitors only what she experienced," he said. She didn't have any idea how the Japanese army organized the comfort station system. "For example, when, where, and what kind of historical materials were found later."
Mario wanted visitors to learn those details. He also wanted to continue photographing the grandmothers. "So when the staff members asked me to work with them together at the time, then I said yes." 
Mario started working at the House of Sharing in 2003 and stayed three years. After spending the next 12 or 13 years in Germany, he returned to the House of Sharing in February 2019 and took over as head of the international outreach team several months later.
Visitors from Japan
During my last visit to the House of Sharing in 2019, I got the impression that there weren't many Japanese visitors anymore. Mario said things may have been slow when he first came back from Germany, but they picked up. Before the pandemic started, there were many Japanese visitors. 
More than 90 percent of the Japanese visitors he sees are on the grandmothers' side. They criticize the Japanese government, he said, and they view Japan's history the same way the grandmothers do.
But there have been exceptions. One day three Japanese men visited the House of Sharing and Mario showed them around the museum. He thought they were about 60 years old. From their comments and questions, he got the impression that they subscribed to a revisionist view of Japanese history — to the idea that "comfort women" were voluntary prostitutes, not rape victims. 
I said I wondered why people with that mindset wanted to visit the House of Sharing at all, and Mario said they were probably "just curious." I said I wondered if the visit changed their minds, and he said probably not. They were probably "quiet denialists," he said. 
Through his work at the House of Sharing, Mario has noticed one difference between now and his early years there. In past years, he said, the "comfort woman" issue was not well known in Japan. But now, because of revisionists and denialists such as former Prime Minister Shinzo Abe, more people in Japan know the term "comfort woman."
But the image in their heads is distorted, he said. I asked if that distorted view was the majority perspective in Japan.
"I think so," he said.
Japanese society is heavily influenced by conservative politicians, he explained, many of whom he referred to as denialists. Many members of the Liberal Democratic Party of Japan are denialists or revisionists, he said, and they have a lot of influence on Japan's media and its school system. For example, there is no information about the sex slavery issue in Japanese school textbooks.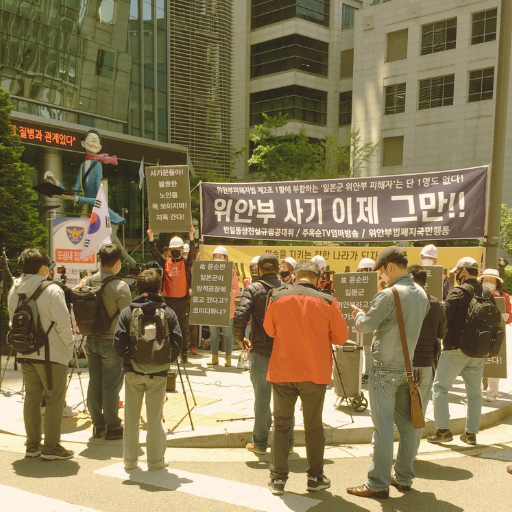 Mario's family
Mario recalled a personal anecdote from his own family. His grandfather was a Japanese soldier during the Pacific War and spent a long time in China. Mario once asked him about the comfort women and the comfort stations, wanting to know what kind of experience he'd had.
"He never talked to me. He never explained to me about his experience. He shut his mouth."
But later Mario heard from his sister that their grandmother had complained about the "comfort women" because she was jealous of them.
"That means our grandmother knew that my grandfather also visited comfort stations."
In 1991, when Kim Hak-Soon revealed she'd been a victim of Japanese military sexual slavery, Mario said it was a big news story in Japan "but soon the people forgot." Feminists in Japan became aware of the issue and set up organizations in Japan to support survivors. Even today, he said, they are trying to raise awareness of the issue throughout the world, not just in Japan.
But advocates of the survivors, people who want the world to remember this part of history, are a small minority within Japanese society, he said. And even in Korea, he pointed out, not everyone supports the grandmothers.
Future webinars
To combat revisionism and increase understanding between the people of Korea and Japan, Mario and his colleagues are looking at the possibility of holding webinars since the pandemic has made museum tours impossible. This year they're hoping to hold an online workshop on history and human rights for young people in both countries. After Korea and Japan reached an agreement in 20152 that "settled" the sexual slavery issue without fairly representing the victims' interests, many youth exchange programs were canceled, he said. Participants wouldn't necessarily have to live in Korea or Japan, but they would need to speak Korean or Japanese.
English webinars might be a possibility later. But Mario and his colleagues would have to consider which themes to highlight and what the format should be. Allowing participants to meet the grandmothers through webinars might be one option.
"Of course it's hard for them to make their real testimony again. 'Cause they're too old and they're disappointed. They're also very tired. But chatting with them, asking them their daily life, or their hobbies, their favorite foods, their wish or their dreams. Those kinds of things they can talk."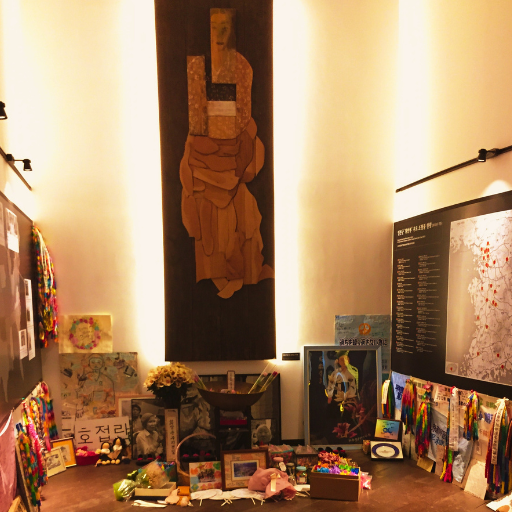 To understand why the survivors are known as the grandmothers, please see my 2019 blog post on the House of Sharing.
For more information about the 2015 deal and why so many people objected to it, please see this report from the Diplomat.