"I was not paid when I was in the comfort station in China," said Lee Ok-Seon Halmeoni. "That's why I didn't have any money to buy a train ticket in order to go home, or even I didn't know which way I should go … to come back to Korea. … So in order to survive, I met my husband there. And I met a family and … I ended up living in China for 58 years long. Even after the liberation." 
Our Zoom interview in March was arranged by Yajima Tsukasa, head of the international outreach team at the House of Sharing, who goes by Mario. The comfort station, of course, was one of the military brothels where some 200,000 women and girls were forced to have sex with Japanese soldiers before and during World War II. I was trying to avoid difficult topics, or anything that might be retraumatizing, but the topic of her life in China triggered what must have been a painful memory.
Lee Ok-Seon Halmeoni and Mario were at the House of Sharing in Gwangju, Gyeonggi Province, and I was at home in Seoul. Having visited the House of Sharing two years earlier, I was eager to catch up and find out how the survivors — known as the grandmothers, or halmeoni — were coping with the coronavirus restrictions. Mario set up the interview after an initial conversation a week earlier, and he facilitated communication.
Keeping it (mostly) casual
"Actually I don't do that many things recently," Lee Ok-Seon Halmeoni said when I asked about her daily life. Most of the time, she watches movies on the home theater system or plays cards with Mario and the other House of Sharing staff members.
That morning before the interview they'd played the popular card game hwatu.
"And we have betting also," said Mario. Not real betting, but they use coins to make the game more exciting. Lee Ok-Seon Halmeoni usually wins.
"I love action movies," she said, but she couldn't remember the titles.
"I get American movies, Hollywood movies, Korean movies, Chinese movies," Mario said, reminding me that Lee Ok-Seon Halmeoni understood Chinese. "As you know, she has lived in China for a long time even after liberation." 
That's what prompted my question about her long stay in China, though I'd already read her testimony and knew the story: She was kidnapped in 1942, when she was 15, and brought from Korea to China. She finally returned to Korea in 2000, when she moved to the House of Sharing as a widow.
21 years of giving testimony
During that first interview Mario had told me of Lee Ok-Seon Halmeoni's disappointment with the outcome of her efforts all these years. "And now it is 2021," he said. "For 21 years long she talked about her experience … she made her testimony repeatedly, many times. Uncountable times." But, he said, in all that time she's never received a genuine apology from Japan.
The statements that the Japanese government has made over the years — in Mario's words, the equivalent of "When I think of the pain those women experienced at the time, I feel sorry" — aren't enough. "What she's said is the Japanese government must acknowledge that she was forced to be sex slave for the Japanese military during wartime."
Former Prime Minister Shinzo Abe has never acknowledged that Japan took women and girls as sex slaves during the war, Mario explained. He never admitted that they were forced into it.
"And Lee Ok-Seon Halmeoni knows it very well," he said. "That's why the apology that Shinzo Abe made for the survivors, she cannot accept it."
Mario believes the Japanese government also has an obligation to explain the details of how, why, where and when the Japanese army established the comfort station system. That explanation is a "necessary condition" before a Japanese prime minister can say sorry and Japan's leaders have skipped that process, he said.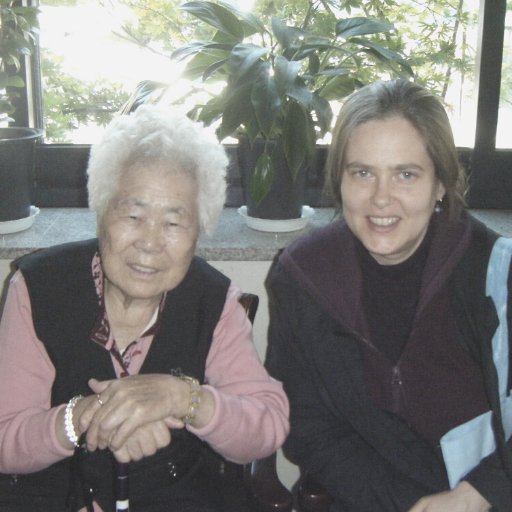 Righting the wrongs of history
These days the grandmothers at the House of Sharing can't go out much — they can't even visit with their families. Of course, Lee Ok-Seon Halmeoni said, she'd like to go out to parks and cafés, but more than that she'd like to deliver her testimony in front of people. "I want to spread history into the world, and more people should know and learn our history." 
I asked if she found it stressful, talking about her experiences with strangers, and she said she was OK with it. "She wants to do it," Mario said, interpreting for her. So I asked if she had a message for readers.
"I think the comfort woman history is not comparable with the other histories in the world," she said. "That's why it is very painful — the history itself is very painful. That's why I hope a lot that our history will be shared with a lot of people in the world." 
Lee Ok-Seon Halmeoni was one of 12 victims who sued the Japanese government in a civil court in Korea in 2016. On Jan. 8, the court ruled that sovereign immunity — the principle that a sovereign state can't be sued in a foreign country — didn't apply because Japan's occupation of the Korean Peninsula was illegal and its actions violated international norms. Each victim was awarded 100 million won (about $89,500) in damages.1
I asked Lee Ok-Seon Halmeoni about the ruling.
She appreciated the court decision, she said, but wasn't entirely satisfied with it. What she wants more than anything is a real apology from the Japanese government.
Since our interview, a similar case here in Korea ended with the opposite conclusion: In April a different judge sided with Japan against a separate group of victims on the grounds of sovereign immunity.
Mario and his colleagues are putting together a book that will include Lee Ok-Seon Halmeoni's testimony and that of other survivors. They're thinking of including 15 testimonies in the final book. They don't know when it will be published.
Vision for the future
In May and September 2020, the House of Sharing was the subject of an MBC program called "PD Notebook." Lee Ok-Seon Halmeoni appeared on the show to discuss her vision for the future of the House of Sharing. Not sure whether the topic would be too upsetting, I looked to Mario for guidance. He said it was something I could ask about.
"After the passing of me, my room should be kept as it is," she said. "And it should turn into our exhibition, because I have been living here for more than 20 years long. And living at the House of Sharing itself is also my history, a part of my history."
Visitors should be allowed to see her room and the things in her room, she said — the furniture, the bed, the books, the TV set. "Even after my passing the comfort woman issue must be taken over by the younger generation, and the younger generation must resolve this issue … with the Japanese government."
It's not just money she's seeking, she told me again, but a genuine apology from Japan. The Japanese government never paid reparations to her, she added. "What I'm demanding is apology first, and compensation. And for that, or to make it a reality, to make it real, I hope Korean government helps us much more." 
Living with restrictions
At the time of our conversation the COVID-19 restrictions meant the House of Sharing couldn't accept visitors.
"But it's not our decision," Mario said. The city of Gwangju issued an administrative order. He said the museum might reopen in March or April, but there would be no guided tours and no chances to meet the grandmothers. That's because Mario lives with the grandmothers and he has to minimize contact with the public. The volunteers and part-timers who used to lead museum tours two years ago are no longer there.
I asked Lee Ok-Seon Halmeoni about her recent trip to the Gyeonggi Porcelain Museum in Gwangju, which was mentioned on the House of Sharing Facebook page. Mario described the place — a huge complex in the woods that also includes a campsite, a museum and a playground for kids.
"Actually it doesn't matter for me where we're going," Lee Ok-Seon Halmeoni said. She just wanted to go outside, experience new things and get some fresh air.
She also wanted to start attending the Wednesday protests again — the weekly demonstrations in front of the former site of the Japanese Embassy in Seoul.
"Every week I want to join the demonstration, but due to COVID-19 I cannot make it."
For all of 2020, the grandmothers were forced to stay away from the protests. "We had no opportunity to join it due to the COVID-19," Mario said. "And if it's possible we want to join the Wednesday demonstration this week. … It depends on the weather, it depends on her condition." 
The Wednesday before we spoke, Lee Ok-Seon Halmeoni had planned to go to Seoul for a protest but hadn't felt well enough. Since then, she's started attending the protests again and the museum has reopened.
Revisionism gains ground
The grandmothers and their supporters are fighting a revisionist view of East Asian history that has gained ground in Japan in recent years. Revisionism was in the news this past winter when a Harvard scholar named John Mark Ramseyer — an American who grew up in Japan, and whose title is Mitsubishi Professor of Japanese Legal Studies — published an article in the peer-reviewed International Review of Law and Economics that enraged survivors and their supporters. Ramseyer denied that Korean women were forced into sexual slavery at the hands of the Japanese military, saying most were well-paid prostitutes who benefited from "indenture contracts." The grandmothers at the House of Sharing have denounced him, as have many Harvard students and a number of his Harvard colleagues.2
"So when I heard of the news the first time, I got so angry," Lee Ok-Seon Halmeoni said. "Because actually we were forced to serve Japanese soldiers during wartime but the professor, Mitsubishi Ramseyer, said that we are not comfort women but just contracted prostitutes. … I cannot accept it."
Mario asked her what she'd do if the professor wrote her a letter of apology. Would she accept it? She said no.
"Of course doing something against the professor is important," she said. But what's even more important is to "give the Japanese government more pressure from outside so that we can get a real, actual apology from Japanese government — quickly and as soon as possible, before we pass." 
'We're on your side'
Lee Ok-Seon Halmeoni has family in China, her grandson and the wife of her son. "I miss them so much. I really want to see them in person, of course, but because — due to COVID-19, they can't make it." 
They use Mario's phone to keep in touch, he said, and they see each other on Zoom two or three times a month. Her family in China knows about her past, he added. 
I asked about the artwork that has been on display at the House of Sharing and at various art shows over the years, and whether Lee Ok-Seon Halmeoni did any painting. She said she hadn't painted as much as many of the other grandmothers.
"But my masterpiece is 'The East Airport,'" she said.
It's not on display and doesn't depict the sexual violence the women suffered, but shows the labor they were forced to do in the airport for the Japanese military.
During our interview, my cat Gemma meowed and Mario asked if Lee Ok-Seon Halmeoni could see her. She loves animals, he said. "Every animal. Any kind of animal she loves." 
We talked about the animals she used to care for in China and about how much she missed her friend Kim Gun-Ja Halmeoni, who died in 2017. They used to go to church together every Sunday, she recalled. She explained how to play hwatu, because I wasn't familiar with the game.
After a while she got tired and had to go, but before ending the call I said I supported her and hoped more people would learn about the issues and join the grandmothers' fight for justice.
Showing we care
As of May 2022, only 11 of the registered survivors in South Korea were still alive. Four of them live at the House of Sharing. There are many ways we can show our support.
⬩ Write a letter to the grandmothers in Korean, Japanese, Chinese, English, French or German. Send it to the House of Sharing, 85 Gasaegol-gil, Toechon-myeon, Gwangju-si, Gyeonggi-do, South Korea 12715.
⬩ Visit the museum. When I spoke with Mario and Lee Ok-Seon Halmeoni in March, it had been closed for more than a year. In April the museum finally reopened, but visitors still can't meet the grandmothers and other restrictions are in place to prevent the spread of COVID-19. Admission is free for now.
⬩ Attend a webinar. Mario and his colleagues are planning webinars to educate people about the history of Japanese military sexual slavery. Survivors such as Lee Ok-Seon Halmeoni may be invited to take part, but Mario stresses that the events are conducted democratically. The grandmothers join only if they want to, and they may or may not be willing to speak about their experiences on a given day. Events will be announced on the House of Sharing website or its Facebook page.
⬩ Attend a Wednesday protest. Most of the survivors are too frail to take part anymore, but the protests are still going on every week outside the former Japanese Embassy site.
For more information, see related articles in the Hankyoreh and the Diplomat, and this statement from Amnesty International.
For more information, see Harvard professor Jeannie Suk Gersen's piece in the New Yorker titled "Seeking the True Story of the Comfort Women."
This blog post is a follow-up to an earlier one from 2019 and is the first in a three-part series. Please also see parts 2 and 3.